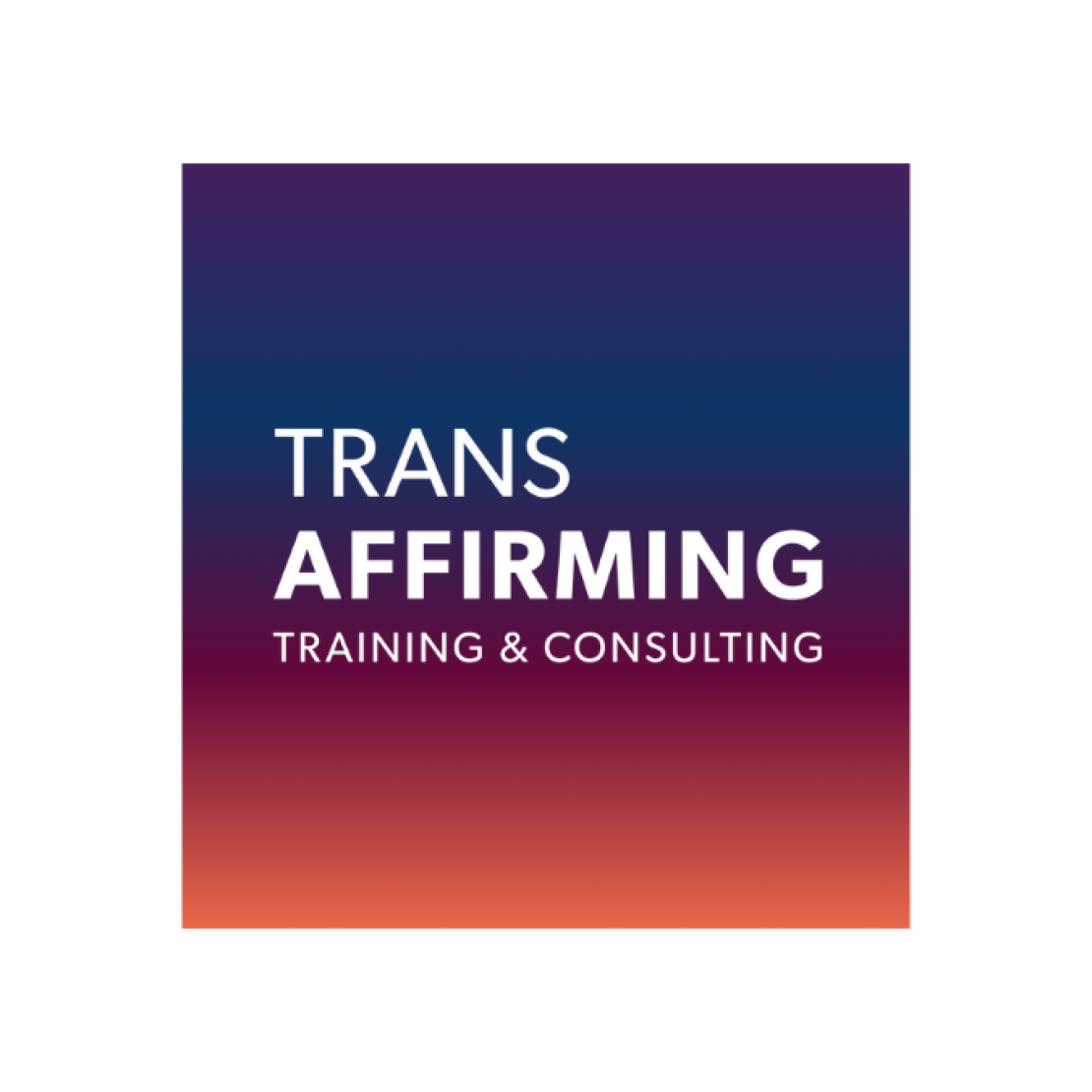 As political attacks against transgender and non-binary youth and adults increase across the US, so does the misinformation being spread about our lives and loved ones.
Now more than ever, it is crucial that people have access to accurate, expert information from a trans-centered perspective.
TATC is here to help.
Trainings with Impact
Whether you are looking for a Trans 101 to help level set information and awareness across your team, or are looking for a more nuanced skills based training on how to be trans-affirming, TATC has options to support you. We know that your professional dollars and time are an investment, and we design our trainings to align with and advance your efforts to create more affirming organizations. TATC has a robust training program with multiple professional development curricular options to suit the specific needs of your group.
When you want the most impact from your training, live synchronous training is the best option. We facilitate a majority of our trainings interactively on Zoom, but also offer in-person, especially for longer sessions.
For large organizations, OnDemand trainings are great alternatives for when live is not an option. Our OnDemand platform allows for your whole team to receive customized training on their schedule.
For organizations with smaller budgets or other logistical challenges, pre-recorded trainings can help get information to your team in a cost-effective manner. Can be combined with live Q&A sessions!
We work with a range of audiences across industries.

We have extensive experience facilitating trainings for a wide range of professional and provider audiences, including legal, higher ed, medical, mental health and supportive service providers, and employees of businesses of all types and sizes. We help translate best practices for supporting and serving transgender and non-binary people into your workplace setting.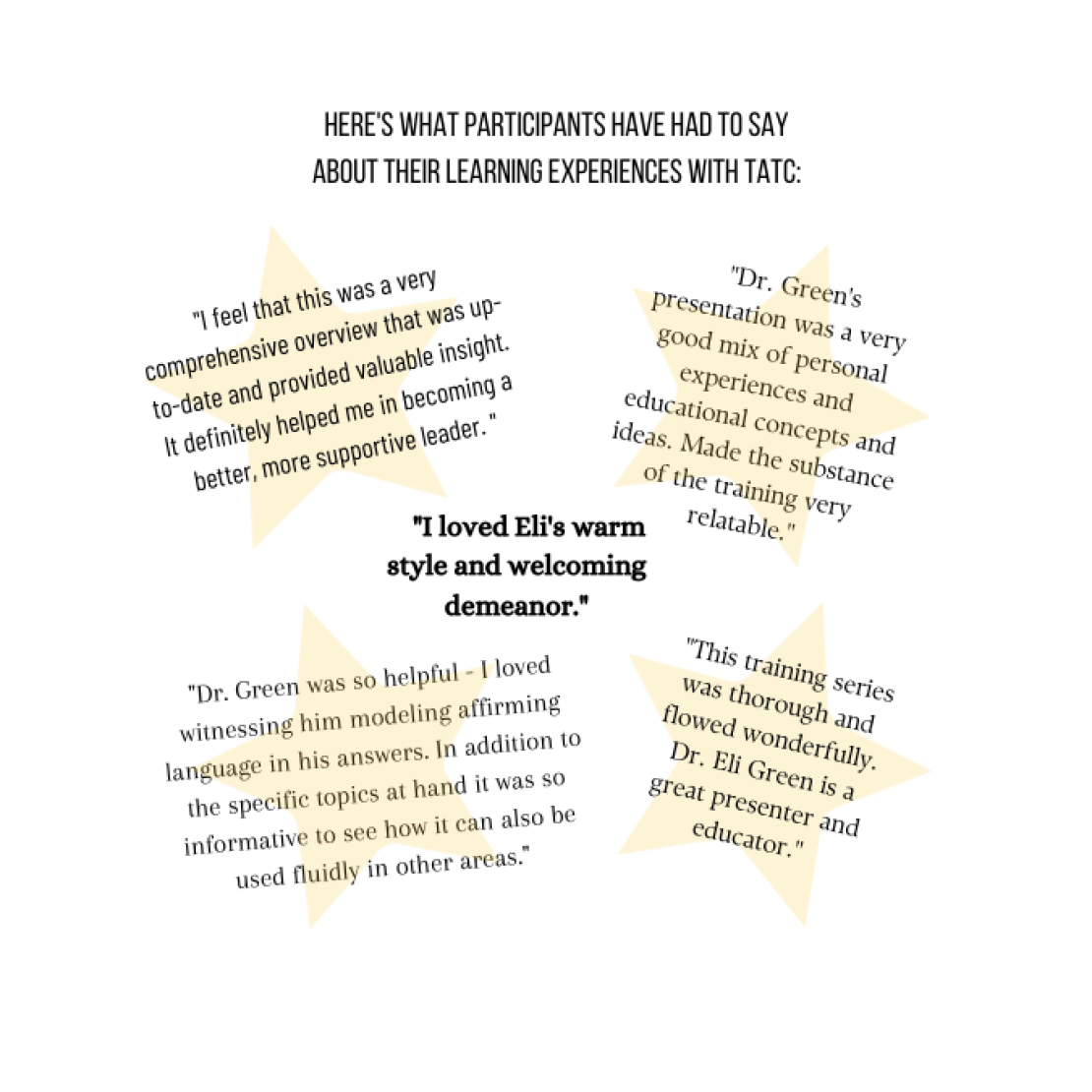 Expert Facilitation
Dr. Green has honed his craft over his 24 years of experience facilitating trans-related content across the US. He co-authored the book on best practices in teaching transgender content. In writing TATC's curricula, Dr. Green combines his academic expertise in adult learning, curriculum design, prejudice reduction and framing theory, with his lived experiences and knowledge of trans and non-binary communities. We love making these conversations accessible to those who are new to the topic.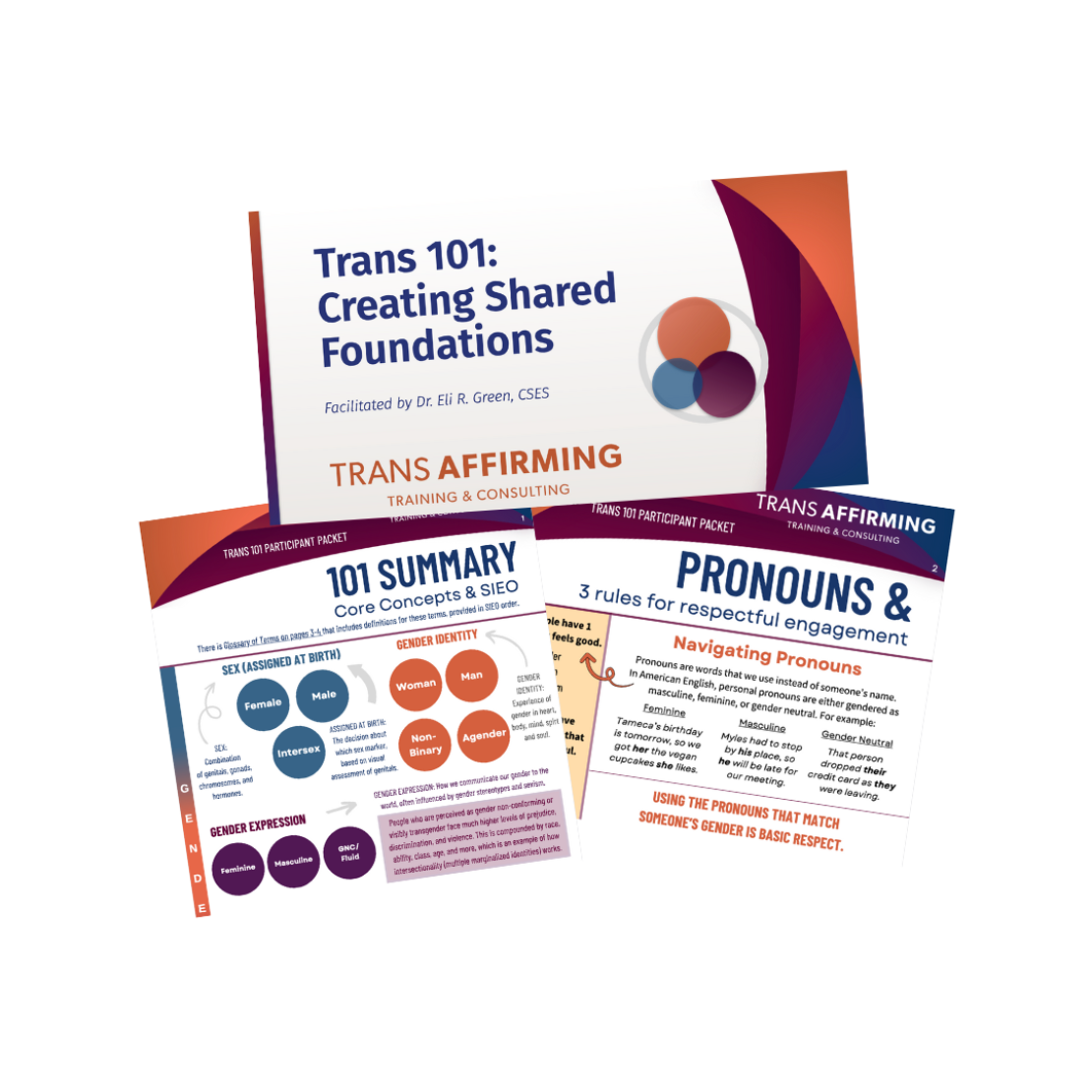 Engaging Materials
We know that this content can be a lot to absorb in one sitting, so we make our recordings available for 30 days after the training for those who missed the training, need it for accessibility or would like the opportunity to rewatch. We also provide comprehensive handout packets for future reference which includes our key points, along with resources for continued learning after the training.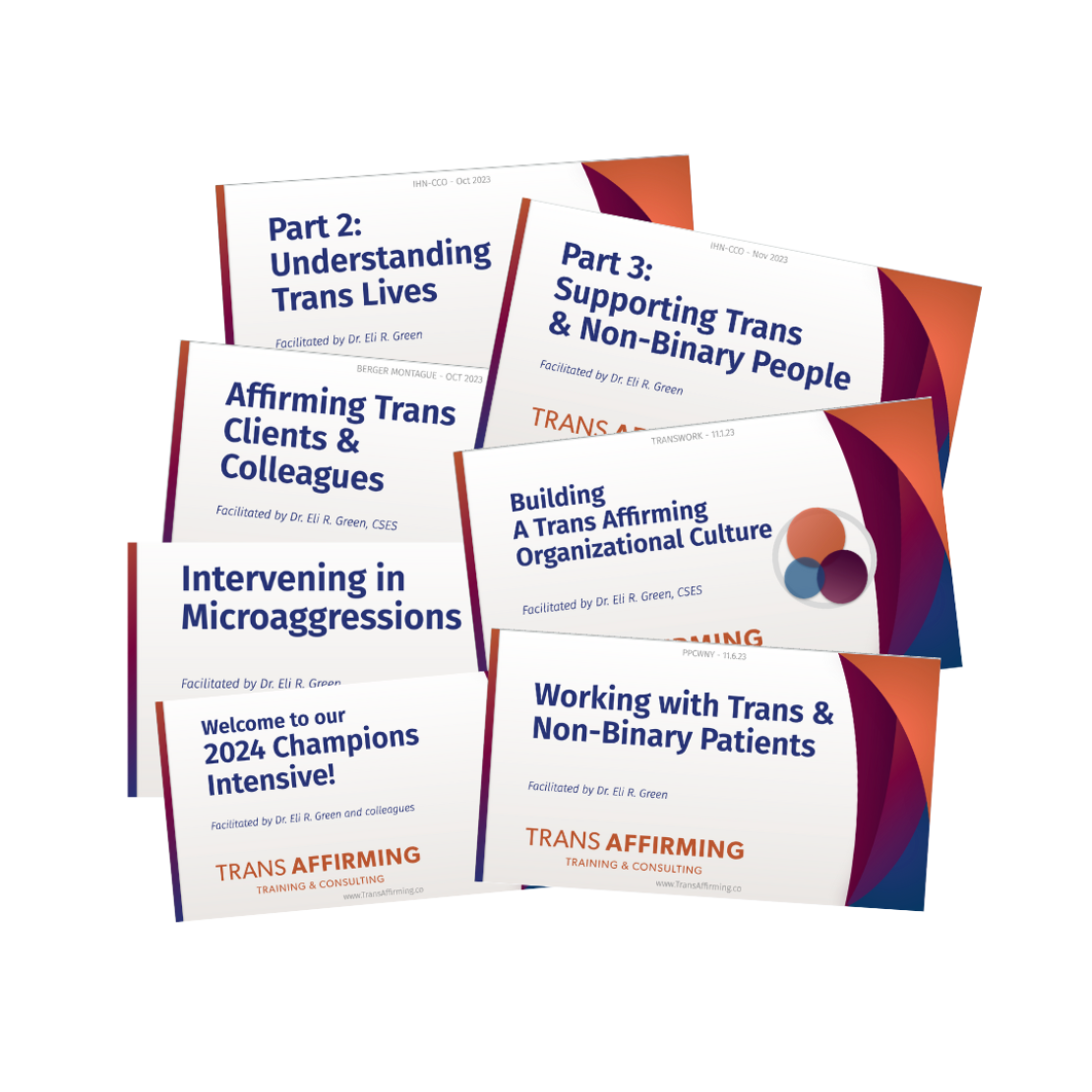 Reliable Information
Since our world is quickly evolving in relation to trans community and related rights, we consistently update our curricula to integrate community-led updates in languages and concepts, the latest research and publications, and information to counter misinformation campaigns. There is no one trans or non-binary experience, so rather than telling one trainer's story, our trainings are designed to represent common themes in experiences across community.
What Our Clients Say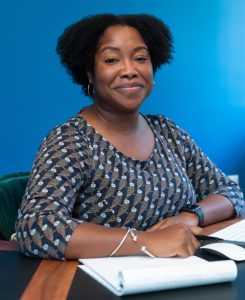 "I have had the privilege of partnering with Dr. Eli Green throughout the length of my career as an educator. In multiple school types (boys, girls, and all gender) with broadly varied needs, he has supported my colleagues and me in shaping academic environments that provide successful and supportive experiences for our transgender and non-binary students, employees, and community members. Over many years, Dr. Green remains at the very top of my list of recommended resources for educators."
– Erica Corbin (she/her), Head of School
The Cathedral School New York City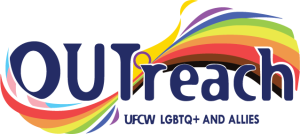 "Dr. Eli Green's trainings have been absolutely exceptional and had a significant impact with hundreds of our union members and leaders across the US & Canada!! Because of these trainings, we know we are better advocates for our transgender & non-binary members and our workplaces are safer places for them to work. During these challenging times, Dr. Green's trainings are needed more than ever!"
– Michele Kessler (she/her)
UFCW OUTreach/UFCW Local 1776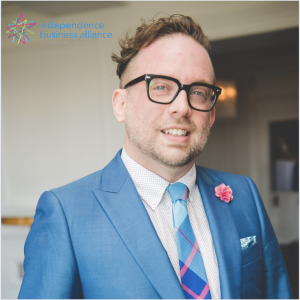 "As the first chamber of commerce to design and implement a program specifically to focus on economic opportunity for transgender and gender nonconforming communities, it was vital for us to focus on creating a culture of trans-affirming workplaces in our region. We are so fortunate that one of our members is TATC, whose work is thoughtful, approachable, and fascinating. Their efforts in training at all levels to create trans-affirming workplaces are unparalleled, and we're proud to have used them as trainers for our members and to refer them to anyone eager to make meaningful inclusion a part of their culture."
– Zach Wilcha (he/him), CEO
Independence Business Alliance, Greater Philadelphia's LGBTQ+ Chamber of Commerce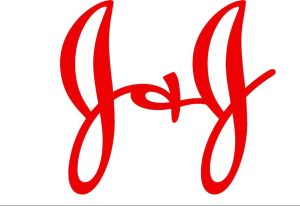 "Our partnership with Dr. Eli Green has been the key foundation to starting real change in ensuring clinical research that is inclusive of the transgender and non-binary community. The customized year-long Champion training program that Dr. Green created and facilitated for Johnson & Johnson has paved the way for active allyship in a way that I never could have imagined when we first started the project. The outcome has already led to key business changes and large impact to intentionally include patients that are often forgotten. Words cannot express how this training and work has changed the way I feel like I can show up at work. This training has allowed my voice to be heard in a way that I have never experienced in my professional career. As an openly queer and transgender person working in healthcare, it has been a dream and hope to help community: help with inclusivity, help with advocacy, help uplift trans voices. This training made my dream a reality. However, the training provided so much more than that: it allowed the reality of change in clinical research. This training provided the foundation to make real industry change. It allowed us to move forward with a prostate cancer study that intentionally includes trans women. This is only the beginning. This work was foundational, and will lead to both organizational changes and industry changes in clinical research. The training provided, and the outcomes we have seen, have truly been priceless.
-Clark Musto (he/him),
Associate Director, Global Trial Leader
Interested?
We'd love to connect with you to learn more about what you are looking for and see if we might be a good fit!  Send us a message and our VP of Client Services will be follow up with you shortly.